Jewelos now shine even more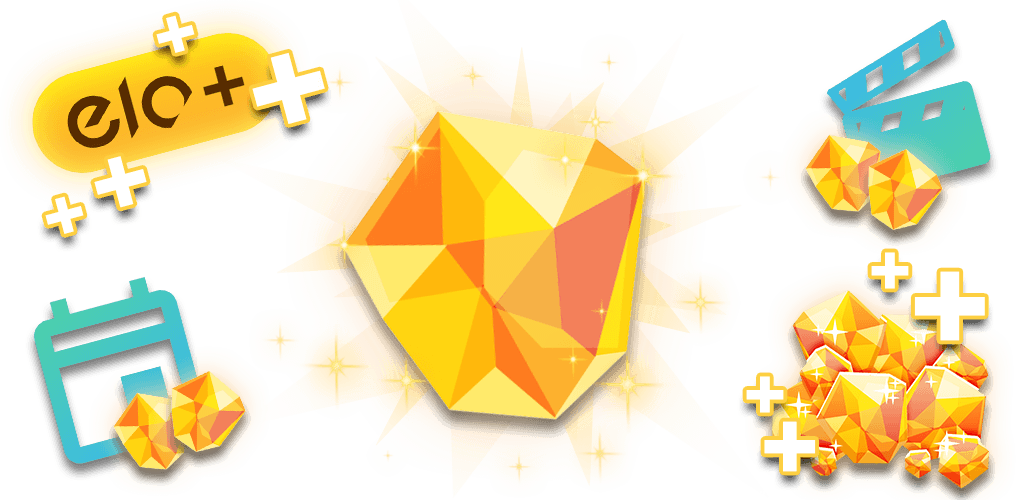 In the last two elo updates, a lot has happened with the Jewelos. This news lists all the details! We very much hope that you are really satisfied at the end of the day!
Daily Jewelos served
We want to make it easy to claim the daily Jewelos, so now you get them automatically every day you open elo at least once. As in the past, elo+ users will get a few extra Jewelos as a thank you for supporting the development of elo. If you have been one of the few in the past who were very consistent with picking up your Daily Jewelos in the Store, you will come off a little worse at this point.
Trying elo+ gets more attractive
If you decide to give elo+ a try, you benefit from several new advantages:* 3 or 7 days ad free and all elo+ advantages as before
more Daily Jewelos during this period
a decent thank you package with Jewelos
elo+ can be terminated at any time during the trial period - very easily with a switch in your AppStore or PlayStore account. Of course, you can keep all Jewelos you received.
Jewelos for watching ads
We had to reduce the Jewelos reward for an ad. The reward used to be disproportionate to the remuneration elo received for showing an ad. However, we have introduced the following improvements:
you can always (and repeatedly) earn some Jewelos by watching ads
we have also extended the offer to elo+ users
we have made the purchase of Jewelos packages significantly cheaper
Cheaper Jewelos packages
Without increasing the prices our packages now include 50% to 100% more Jewelos. We've also introduced a really big package that guarantees you won't have to think about Jewelos for a very long time.
Do more with Jewelos
If you don't use elo+ and still want to play elo ad-free, you can now buy an ad-free hour for a few Jewelos. We will show you your remaining time directly in the card collector. But keep in mind: the time will continue to run even if you close elo.
In addition, you no longer have to wait 2 weeks until you can change your favorite game again. You can now do this at any time by using a few Jewelos.
As you can see, elo is always in flux. Thank you for being part of our journey! Continue to have lots of fun! Your team at elo