Beautify your profile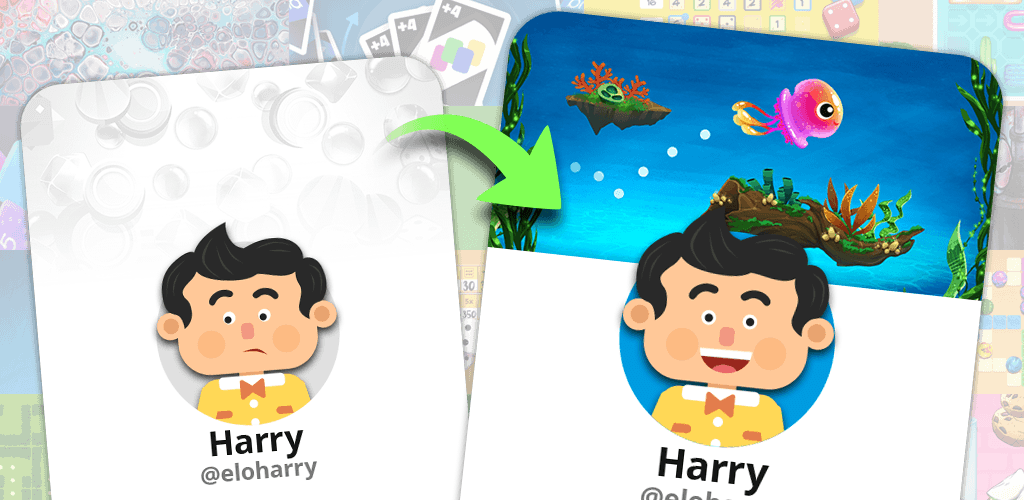 elo, that's the people who play here, in all their diversity, with their individual preferences, strengths and their elo stories. We want to express this more strongly in the future and take the first step today.
The extended profile
So far, you can decorate your profile with a picture, a few words about yourself, your favorite games and your achievements. Starting today it will be much more colorful. That's why we have created a generous space above your avatar that you can decorate.
A growing selection of decorations
We added another section in the store. You already know the store from collecting your daily Jewelos. To buy a decoration simply use your Jewelos. We start with a small selection of decorations, but will continuously expand it. Once you bought a decoration, it's added to your inventory and you may use it any time you want to bring even more variety to elo.
Not just a matter of price
Different decorations have different prices, which regulate their rarity. For some decorations, however, there is another hurdle to take: for example, you must have already played a certain number of matches of a certain game before you can use a motif from that game as a decoration. Initially, the requirement of owning a certain number of puzzle pieces of a puzzle in gold or ruby (as indicated on the motif) will be particularly difficult.
To be clear: you keep the puzzle pieces, they only entitle you to buy certain decorations. The same applies to motifs that are reserved for elo+ users. Once you have them, you don't have to give them back when your elo+ subscription ends.
Some motifs are animated
To make the decorations even more vivid, we have animated individual motifs. They are clearly marked in the preview gallery of the store. To see the animation, check out the preview. In the next few weeks we will work hard to surprise you with even more beautiful animated motifs.
Themed motifs at certain times
Easter is just around the corner. A good opportunity to offer decorations that are only available for a limited time. Once purchased, however, they will remain in your inventory forever. So if you want, you can display the Easter nest at Christmas. But who would do that...
What's next?
If the feature catches on in the community and is worth a few Jewelos to some, we still have many expansion options on our list:
Of course, the avatar itself should be able to be decorated one day, and perhaps even the chat messages in rooms.
And when someone visits your profile, we allow them to look at the inventory of decorations you've already collected.
Soon there will also be decorations for your profile, in which certain data will be entered dynamically, such as your elo score in a game or your ranking.
Oh, and we also have a lot of ideas for the tasks that have to be completed to obtain a decoration. Maybe a tournament rank or an elo score and many more.
We are very curious about your feedback. Please leave a post in "All about elo" and tell us what would make the decorations even more desirable for you.
Happy decorating! Your team at elo